Mark your calendars for our 2nd Annual Technology Career Day!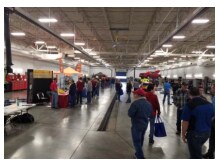 An event for those students who may have an interest in an automotive
career after graduating high school. This past year, we have
been working with local area schools, technical colleges and
regional universities to partner and bring your students a one stop event to learn more about the
exciting field of automotive technology.
When: Saturday, March 10th
Where: Davis Moore CDJR Dealership
Who: Students plus Parent or Guardian
There will be free food, prizes, AND a free oil change certificate for attending!