0
0
1
188
1077
The University of Tulsa
8
2
1263
14.0
Normal
0
false
false
false
EN-US
JA
X-NONE
Davis-Moore Chrysler Dodge Jeep Ram Fiat to Host Exclusive 2018 Jeep Wrangler Event
Davis-Moore CDJRF, located at 7675 E Kellogg, is excited to host an exclusive event to showcase the new
2018 Jeep Wrangler on Saturday, March 3rd from 9am to 4pm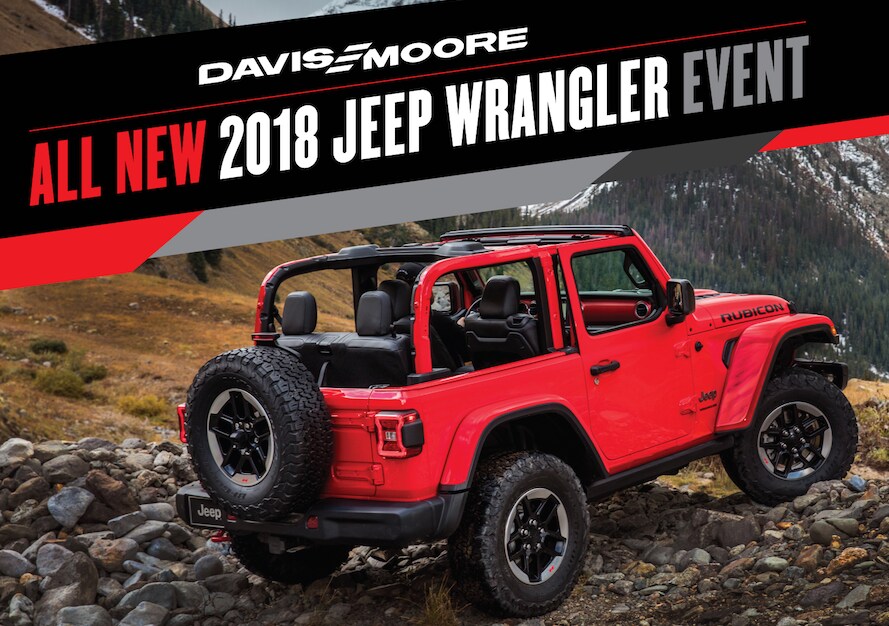 There will be door prizes to the first 200 people, raffle drawings every hour, and you can enter for a chance to win a $1,000 gift certificate to our Parts & Accessories Department.
We'll be serving doughnuts and coffee all morning and lunch from 11:30am-1:30pm while food lasts. We have a great selection of 2018 Jeeps to see, so don't miss this opportunity to come by and join us for the celebration!
We invite you to come and see the safe, solid, true-to-its-heritage All-New Wrangler; with state of the art features that deliver a secure ride and updated design and materials. This is the most capable Wrangler ever. Forge a new path to adventure and join the fun!
"Jeep is definitely the most iconic of all our brands at Davis-Moore Auto Group. They knocked it out of the park with this new Wrangler. It is the most aggressive and most sophisticated, all at the same time. I just know everyone is going to love this Jeep once they see it." said Sean Tarbell, President and CEO of Davis-Moore Auto Group.